There are literally thousands of different type of manufacturers of holsters as well as many different type of holsters out there to carry your firearm in. I will go over the most popular and why they are so good as well as the most unpopular and why they are. To start off I will go over the different types of holsters out there. You have the ever popular outside the waistband (OWB) which is popular in law enforcement for their daily carry rig, as well as is used many times for a range holster. Inside the waistband (IWB) is another popular carry method that my colleagues and I use as our daily carry rig. For sub-compact handguns, pocket holsters can be used and are very simple and cost effective. Finally, we have the not so popular ankle holster that is used mainly in law enforcement and executive protection, but is perfectly effective for the everyday civilian as well.
The OWB holster is extremely good for many applications and come in a stray of different materials. They can range from leather, kydex, carbon fiber and even nylon. For my personal OWB holster I am a big proponent of using kydex, more specifically kydex from X-Concealment Holsters. Some people I have talked to like leather holsters for some reason. They say it "looks" nicer and more "professional," except you have to pay out the nose for a quality leather holster and wait months, even though it will get ruined by sweat and will not hold up as long as other materials. Kydex will put more wear on your firearm but as far as I'm concerned it's your carry gun, so why are you going to baby it? I'd also recommend staying away from any type of holster with any type of retention. The reason for this is because as a civilian that conceal carries you should have no reason for someone to be going for your firearm seeing that it is "concealed." It's also one more safety device you have to worry about disengaging during a dynamic critical incident and that equals less time on target. I can completely understand in a law enforcement application where you're open-carrying all the time, but not so much for the civilian. That is another reason why none of my pistols have external safeties. An example of one of these bad holsters is the Blackhawk Serpa Holster. It's an OWB holster that comes with a paddle and belt attachment. It requires the user to depress a button on top of the trigger to release the firearm which leads to bad handgun manipulation and has resulted in negligent discharges. Case in point is the video below.
There are many different types of IWB holsters out there also; I will be talking about one type specifically seeing that it is the most useful for the legally armed citizen. They are called Hybrid Holsters and are made from leather as well as kydex. As we all know IWB holsters go inside the waistband and the material that touches your skin is the leather and eventually forms to your body shape. The kydex is attached to the leather and is specifically formed for your pistol. The reason for the kydex is that re-holstering usually seems to be a problem with IWB holsters because they usually collapse, especially with nylon or soft leather materials. The kydex stays solid and you are able to one-hand re-holster your firearm if necessary. A fantastic company that I have been dealing with for quite some time right now is Shielded Holsters. The owner is a gentleman by the name of Kurt and he hand makes these holsters out of his house for a fairly decent price and very good turnaround time, I'd definitely recommend checking him out. Another option for inside the waistband is appendix carry IWB. Whereas traditional IWB holsters are worn between the 3:30-5:30 position on the body, appendix holsters are worn at the 1:00-2:00 position and are a lot easier with sub-compact handguns/snub-nosed revolvers. From people that I have talked to, if you have a big gut this carry method is little uncomfortable but it's still worth to check out. Also, if you're sitting down for hours on end or are going on a long car drive, don't use this carry method, it will dig into your hip.
Pocket holsters can be your friend or your worst enemy depending on what you're carrying in it and the quality of the holster. Many "intelligent" people I come across tell me they just throw their firearm into their pocket and see no reason for a pocket holster. I'm just waiting for them to have a negligent discharge into their leg and then come back to talk to me. Pocket holsters are definitely important, seeing that they cover your trigger, keep dust/lint out of the internals of your gun, and keep it pointed in one place so it's not bouncing around in your pocket. These type of holsters are really only good for sub-compact semi-automatics (9mm or below) or snub-nosed revolvers. Always look for a holster with very grippy material on the outside so it will stay in your pocket when you need to deploy your firearm. Also, make sure that it has a perfect fit, you don't want it to be swimming in the holster or it be too small and not covering the trigger the whole way. Desantis Holsters has quite a few options to look at.
The last and final carry method I will touch on is the ever talked about ankle holster. To start off with I will only recommend using an ankle holster for your BUG only. (For a definition of the word BUG refer back to my "Everyday Carry" article.) Never use an ankle holster for your main carry. The reason for this is that out of all the aforementioned holsters, this one takes the longest to get to and deploy your firearm. For a BUG though, I would absolutely recommend it, I carry a Ruger LCR in mine. A few things you need to take in consideration is the first obvious one, you need to wear pants. Not just any pants, make sure that they have a decent opening at the bottoms so that your gun isn't printing through. I've found khakis work the best with an ankle holster. When you're trying to decide what side to wear it on, realize this, if you're right handed it will go on the inside of your left leg and vice-versa if you're a lefty. The reasoning behind this is that you don't want to be walking around and bump your firearm into a wall, chair, whatever and let everyone know your carrying. I did months of research before I purchased my ankle rig and I couldn't be happier. Renegade Holsters is a little "mom and pop" shop out of Arizona that only makes ankle holsters and has been in the business for years and years, great customer service helps too.
Whatever type of carry method you decide that's good for your personal lifestyle, realize one thing. Conceal carrying is a lifestyle; you just can't walk into a gun shop, buy a gun and try on a holster and say that I'm printing too much. For all of you who do not know, printing is the term used when your carry piece is able to be seen through your clothing. You need to realize that you may have to change your clothing to accommodate your carry gun. I'm usually a medium in T-shirts but had to go up to larges in order to conceal my firearm. The same goes if you're wearing an IWB holster, you may have to go up a size in pants. I can't tell you how many times I have people telling me they want a Seecamp in .32 because they can't conceal their compact semi-auto, seriously? Big boy/girl rules apply here folks, if you're not willing enough to change a little bit of your clothes in order to be capably armed to defend yourself as well as your loved ones, then maybe carrying concealed just isn't for you. One more thing I'd like to add is buy a good quality belt. Whether it is a nylon riggers belt or a thick leather gun belt, buy something that can hold your carry gun firmly and securely in place. I'm sorry but the Wal-Mart special just won't do. As always, keep it loaded and watch you six.
X-Concealment "C-Series" holster for Glock 17 w/stippling/grip reduction
done by Lou at Business End Customs
S&W M&P 40c in Double Phalanx IWB holster by Shielded Holsters
with IWB single mag carrier.
Ruger LCR w/Crimson Trace grip in the "Cozy Partner" by Renegade Ankle Holsters
Kel-Tec P3AT in Desantis Nemesis pocket holster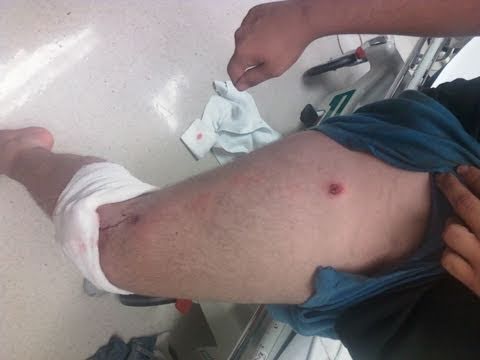 This is why Blackhawk "Serpa" holsters as well as any dual-retention holsters is bad